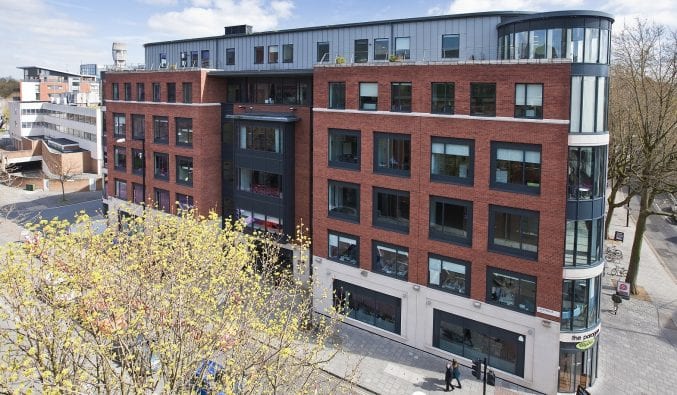 The Paragon, Lothbury Property Trust's six storey, 75,000 sq ft office property in Bristol has been awarded the highest score for a multi-tenant building by Fitwel, the building certification focused on supporting healthier workplace environments and improving occupant health, wellbeing and productivity.
The Paragon, which is located on Victoria Street, Redcliffe, is host to around 350 people over six floors, comprising ground floor retail and offices. The building successfully scored 106 points out of 144, achieving a 2 Star Fitwel Certification, winning the award for the highest score within all Multi-Tenant Base Building assessments globally at the Best in Building Health Awards.
Administered by the Center for Active Design, Fitwel is a building certification focused on promoting healthy buildings and communities in a vision for a healthier future.
Alexander Steel, ESG Manager for Lothbury Investment Management Limited, advisors to Lothbury Property Trust, said: "We are delighted to have won this Fitwel award, which demonstrates the highly sustainable credentials of the building within our portfolio."
"Lothbury is committed to investing, managing and developing sustainable property, including the improvement in health and wellbeing performance. We are continually looking at ways to be more sustainable at both a corporate and fund level. We aim to achieve our sustainability objectives by improving core portfolio assets, like The Paragon, responsibly developing building and construction projects and by assessing the merits of all future acquisitions. Improvements are sought to increase efficiencies within our real estate portfolios to address the environmental challenges we face, including climate change, as we progress on a pathway towards net zero carbon."
At the property, cycling is strongly supported through abundant bicycle storage, shower facilities and repair services, promoting a healthy lifestyle and sustainable means of transportation for occupants.
In addition, measures such as standing desks, signage at lift call points to encourage stair use and weekly fresh fruit delivery are examples of how the building allows occupants to incorporate healthy choices on a daily basis. Building users also benefit from conveniently located water bottle refilling stations, excellent levels of natural daylight with operable shading and high air quality throughout.
"The Paragon has realised a significant achievement as the highest-scoring Fitwel v2.1 Multi-Tenant Base Building project to date, earning it recognition as a 2020 Best in Building Health award winner," said Joanna Frank, President and CEO at the Center for Active Design. "As the first firm to achieve Fitwel certification in Bristol, Lothbury Investment Management stands out as a leader in prioritising the health of their occupants."
The building previously achieved BREEAM New Construction 'Excellent' Certification in 2008.