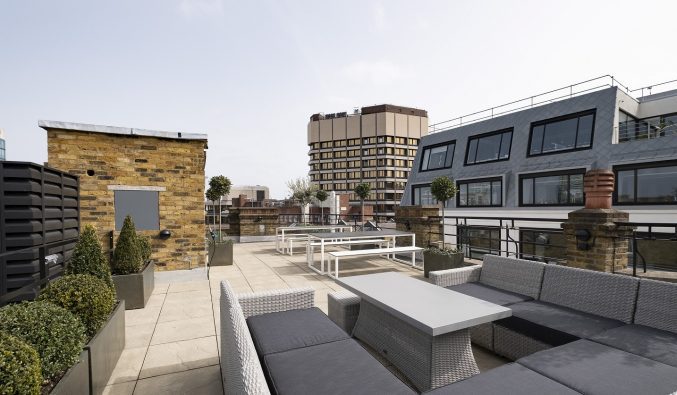 Lothbury Investment Management Limited, on behalf of Lothbury Property Trust, has achieved a BREEAM 'Very Good' rating following the comprehensive refurbishment of its Tudor House period office building in Fitzrovia, London. Letting of the entire building was achieved within two months of Practical Completion.
The building is located at Gresse Street, W1 and comprises approximately 5,000 sq. ft. (NIA) of office accommodation over four floors. All office floors were let in their entirety to financial wellbeing technology business, Wagestream.
Wagestream is Europe's fastest-growing provider of financial wellbeing services, working with employers to reduce financial stress for over half a million workers. Launched in 2018 and part-owned by the UK's leading financial charities, the company now has over 100 employees and growing teams in the UK, Spain, Australia and the United States; the new Fitzrovia office will serve as Wagestream's main workspace for London and UK-based staff.
Jonathan Strong, Asset Manager for Lothbury Investment Management said: "Tudor House is a landmark building and a very high quality refurbishment. We are delighted to have completed a letting of the whole building within just two months of practical completion, which demonstrates that, even in the current challenging London office market, demand remains strong for 'best in class' accommodation."
The refurbishment involved each floor being finished in a "media style" and fitted with a new exposed VRF air conditioning system, supply and extract ventilation, LED lighting with daylight and PIR controls and engineered wood flooring. Reconfiguration and rationalisation works added c.100 sq. ft. NIA to the building.
The office entrance and common areas have been redecorated in a clean, contemporary style that subtly references the building's Art-Deco heritage. On the roof terrace, new furniture, lighting and planting has provided an enhanced recreational area for tenants.
Jonathan Strong continued: "Lothbury is fully committed to building sustainable assets. The transformation of Tudor House has been exceptional, and we are pleased to have achieved BREEAM 'Very Good' in this refurbishment, particularly as this is a period building. This underlines the Fund's commitment to achieving our sustainability aims by improving existing core portfolio assets and sustainably developing active portfolio properties."
Lothbury achieved net zero carbon certification in construction on Tudor House by offsetting 85 tonnes of CO2 to an independently certified Gold Standard.
Photovoltaic cells installed on Tudor House provide a minimum of 10% renewable contribution, whilst low energy use fixtures and fittings have been fitted wherever possible to improve the building's EPC rating. A cycle storage area with racks for eight bicycles has been installed to encourage exercise and help reduce congestion and emissions.