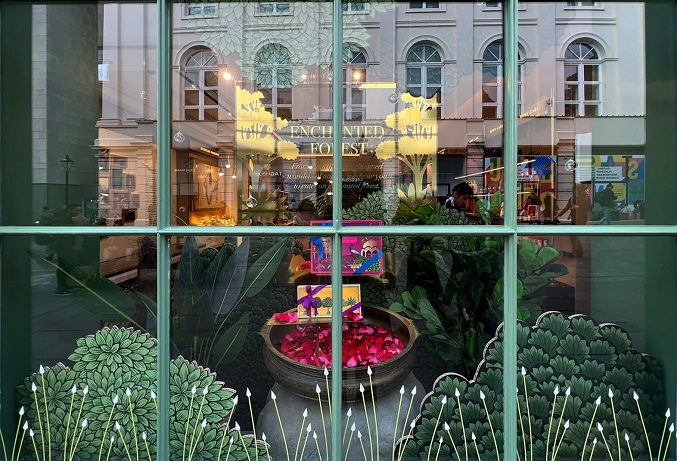 The boutique UK real estate investment manager, Lothbury Investment Management has secured pioneering Indian skincare and wellness brand, Forest Essentials as a tenant at Lothbury Property Trust's flagship holding in London's Covent Garden. The unit at 28 James Street has been let to the upmarket brand at an annual rent of £450,000 pa and represents the first retailing unit in the UK for Forest Essentials.
Lothbury Property Trust owns six retail units on the busy pedestrianised thoroughfare of James Street, which links Covent Garden tube station with the Piazza. The location benefits from exceptionally strong retailer demand and is home to a wide range of world-class fashion, beauty and lifestyle stores.
An authentic and traditional Skincare Brand with its foundations laid in the ancient science of Ayurveda, Forest Essentials is a pioneer in the Luxury Ayurveda segment. Today, it has become the quintessential Indian beauty brand where secrets of ancient beauty rituals for skin and hair care have been brought to life through painstaking research and made available to modern day customers. Since its inception in the year 2001, Forest Essentials retails from over 100 company-owned retail stores across India, has a major online business, exporting products to over 120 countries worldwide and is the largest player in the luxury hotel and spa business catering to over 540 hotels and resorts including the prestigious Taj and Oberoi Group of Hotels.
The Covent Garden unit, which opened in November, is Forest Essentials' first international store outside India. The business has been working in conjunction with the Estée Lauder Group of Companies since 2008 as its strategic partner to drive commercial success and expansion globally.
Jonathan Strong, fund manager at Lothbury said: "Covent Garden provides one of the most dynamic and busiest retailing locations in the world. Given the huge numbers of international tourists the area attracts, we are absolutely delighted that Forest Essentials has chosen this property to open their first European outlet. Lothbury Property Trust's Covent Garden holding is a perfect location for world class brands and the letting is in line with our policy of attracting high quality names to the prestigious properties in the Lothbury portfolio."
Samrath Bedi, Executive Director at Forest Essentials said, "We are delighted to be opening our first store in London's iconic retailing district of Covent Garden. Forest Essentials has been very well received so far in the U.K., with customers really welcoming the values and authenticity of our brand. We feel that having a real-life store will help customers to fully immerse themselves in the brand."
Lothbury has also recently completed a lease regear of 25/26 James Street and 7A Floral Street which is let to leading footwear brand, Skechers. This has secured this strong tenant in James Street for at least a further 5 years.
Jonathan Strong added: "We are very happy that Skechers wanted to remain in their unit, having been in place since 2018. This, and the letting to Forest Essentials demonstrates a strong return in confidence of this Covent Garden location post Covid."
Lothbury was represented by Hanover Green Retail and Colliers; Forest Essentials and Estée Lauder were represented by Cushman Wakefield; Skechers were represented by CBRE.